Doc's News & Views:
Its that time again for the Summers End Shootout TOURNAMENT!!!! OCT. 03!!!!! Yes thats right its coming soon. So start putting together your 4 man teams. THIS annual bash promises to be bigger and better then last years event! Our drawing features really great and neat paintball stuff and best of all, all proceeds go to charity.
Heres the scope :
The Tournament is "OPEN GUN" with a STRICT 285 fps speed limit. You may also choose to play "Stock" or "Super Stock" with increased scoring.
What: A 4 man cut-throat format (All teams against all others) Up to six rounds of 15 minute games. Winners determined by "tag" score and sportsmanship points. Commemorative patches and plaques for 1st, 2nd, 3rd, Best dressed and Sportsmanship.
When: Sometime soon, OCT 2003. A Captain's meeting and Registration at 8:00 am. Games begin proptly at 9:00 am
Where: Six miles east of Kingman, Az. Take exit 59 (D.W. Ranch Rd.) off I-40, procced about 3.5 miles, turn left and follow signs. Great viewing area with plenty of parking area. Go to Doc's website for map (Url listed down)
Details: Only $120.00 PER TEAM, If pre-register, and provide an extra player to help with referee. (you can rotate players). If you can't help with reffing the fee is $ 150.00 per team. There is a late fee for registering on game day. So register early!
Questions & Registration: Website: ArizonaCombatGames.Tripod.com
Az Combat Games, Attn: Paul "Doc" Koch
108 S. El Dorado Ave. Lake Havasu City, Az. 86403 (928) 855-1280
Please make checks payable to PAUL KOCH.
Our emphasis is on Fun & Fair play.
NO PROS, RINGER, WIPERS, OR WHINERS!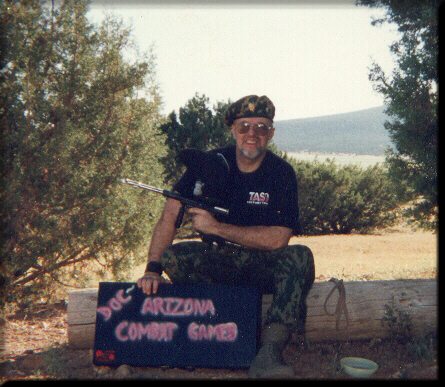 Arizona Combat Games is Founded by Paul "Doc" Koch a teacher, an author, and all around fun guy, Whose purposes is to be Paintballs goodwill ambassador to everyone who is lucky enough to meet him. Doc has put together two of his favorite hobbies , Paintball and wargaming with model solders - to make up Arizona Combat Games. Doc as been playing with both hobbies since the early 80's and has made numerous articles for Action Pursuit Games and other paintball magazines. He is always working to promote the "Fun" aspect of paintball in this part of the country. And Paintball is what Arizona Combat Games is all about. From Recreational play to Tournaments and a few Scenario games in between. A.C.G. has it all! A.C.G. is located on the Colorado River in the City of Lake Havasu. We have Two Paintball Fields (Winter & Summer-Rec Play only) that we setup and maintain for you to use and everyone is welcome. And its all Free! So come play in The Deserts of Western Arizona!